A ticket to Moscow!
With more and more people coming from Moscow to visit the Côte d'Azur, it's time to return the compliment by booking a Nice-Moscow direct flight to discover their city. Moscow is more than just a city: it is legendary! It is one of the largest capitals in the world, and throughout history, it has inspired fear and envy. In fact, just boarding a plane from Nice to Moscow is like getting into a time machine. So take a trip back through history, tremble, dream and feel the buzz of a city that's hard to conquer but easy to love.
currency

Rubles

language

Russian
Ideal For
Couple

Culture

Town/City

Weekend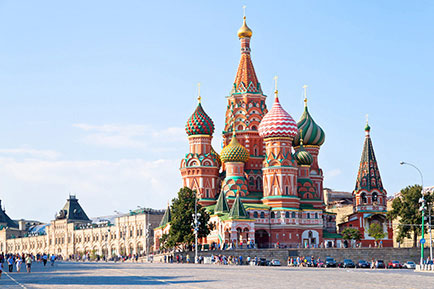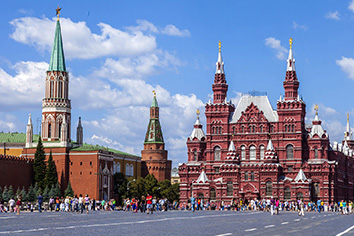 Useful information for your trip to Moscou

See more

See less

The "red telephone" brought direct communication between the US and Russian leaders. Today, direct flights connect Nice to Moscow. With Misterfly, all it takes is a few clicks. Our partner will help you plan your Nice-Moscow non-stop flight and benefit from the best conditions. It offers an easy, transparent way to compare dates, times, and prices for your Nice-Moscow plane ticket. Book with no additional fees, and spread the cost over several months if you wish.

The formalities for travelling to Moscow

Entry requirements: to enter Moscow, many European citizens need to apply for a visa and meet the necessary conditions to get one. You can apply yourself or do it via a specialist agency. Once you arrive, you will be asked to present your passport, complete an immigration form and register your visa with the local authorities if you are staying in the country for more than three days. Once again, you can get assistance from your hotel or an approved service provider.
Currencies: you will pay for your Matryoshka dolls and ushanka hats in rubles. There are around 75 rubles to one euro, excluding any exchange fees. You can exchange some currency before you leave by visiting Interchange at Nice Côte d'Azur Airport.

Your Nice-Moscow direct flight

Make sure your journey to Moscow gets off to a good start by going to the correct terminal! All Aeroflot flights from Nice leave from Terminal 2. Flights with S7 Airlines and Ural Airlines take off from Terminal 1.

Don't be late! The security checks take time. Make sure you arrive are the airport at least an hour before your departure time if you have your boarding pass and you are travelling with cabin baggage only. Need to get your boarding pass or put bags in the hold? Leave at least an extra quarter of an hour, to get your journey from Nice to Moscow off to a smooth, stress-free start.

Departure airport
Nice Côte d'Azur Airport
Departure terminal

Terminal 1 for S7 Airlines and Ural Airlines,
Terminal 2 for Aeroflot

Arrival airports
Moscow Domodedovo Airport with S7 Airlines
Zhukovsky International Airport with Ural Airlines
Sheremetyevo International Airport with Aeroflot

Arriving in Moscow

Since Moscow has four airports, not all flights from Nice land in the same place. In fact, it all depends on which airline you fly with.

Travelling with Aeroflot? You will land at Sheremetyevo International Airport. This airport is around 30 kilometres from the city centre, which can be reached easily by:

train: direct from the airport, the Aeroexpress takes 35 minutes to get to the heart of the city, arriving near a metro station;
taxi: make sure you use one of the two official companies (Yandex Taxi or Svo-Taxi) by booking your journey at the taxi desk in your terminal. The journey time ranges from 45 minutes to double that at rush hour.

Travelling with S7 Airlines? You will land at Moscow Domodedovo Airport, 45 kilometres from Red Square. To get to the city, you have the following options:

train: direct from the airport, the Aeroexpress takes 45 minutes to get to the heart of the city, arriving near a metro station;
a taxi: make sure you use the official company (Gett Taxi) by booking your journey at the taxi desk in your terminal. Allow at least 1h30 for the trip.

Travelling with Ural Airlines? You will land at Zhukovsky International Airport, the city's newest airport. It is located around 40 kilometres from the centre of Moscow. To get to the centre, take:

the bus and the metro: bus 441 takes you to Kotelniki metro station. From here, you can travel to the city centre. The total journey time is around two hours;
the train: first take a shuttle bus to Otdyh station, then get the Sputnik express train to Kazansky station in the north-east of the city, where you can get the metro;
a taxi: not the cheapest option, but undoubtedly the fastest and most comfortable.
What to do in
Moscow ?
The Cold War is just a distant memory, but there's no denying that the capital of Russia still has a unique aura that sets it apart from all other major European cities. This immense city fascinates us because of its history and the place it occupies (rightly or wrongly) in our imaginations today. But behind the myth, the attentive visitor will discover a different truth: that of modern-day Moscow, where everyday life, from its simplest customs and pleasures to its occasional harshness, never ceases to amaze. It also never fails to charm!

A city of contrasts

See more

See less

The city of the Bolshoi Ballet is more than just the capital of Russia: it is the capital of contrasts! Stroll through the streets with your partner or friends, get off the beaten track, mingle with the locals and discover the unbelievable paradoxes of the city that is proudly nicknamed the "Third Rome" by its people.
Moscow is eight-lane roads filled with saloon cars and chauffeured 4x4's with tinted windows, their engines thrumming just a few hundred metres from Lenin's tomb. In honour of a glorified past, the city has rebuilt forgotten churches, while striving towards an ambitious future with the skyscrapers of Moskva City. This constantly evolving megalopolis nevertheless has around a hundred parks and gardens, creating a peaceful haven with 3 to 4 times more green space per inhabitant than London, New York or Paris.
In this land of culture, the great museums of the city where Pushkin was born are known the world over for their rich collections and high-quality exhibitions. Meanwhile, far from these institutions, young artists have taken over abandoned factories, where they bring alive and share their visions of art and design. The lungs of the Russian economy and a stronghold of numerous multinationals, the "Third Rome" is spilling over with trendy spots and exclusive gastronomic restaurants. However, even in the city centre, you can still find fantastic food for barely 5 euros: the perfect chance to try freshly cooked local dishes. And this is just a small sample of what Moscow has to offer…
The top 10 things to do in Moscow

See more

See less

Spend some time on Red Square, one of the most famous squares in the world and a truly breathtaking sight. It is full of life and history.
Visit the Kremlin, Lenin's Mausoleum and the mummified body of the father of the Soviet Union, then admire Saint Basil's Cathedral, a multicoloured fairy-tale palace built on orders from Ivan the Terrible.
Step inside the Cathedral of Christ the Saviour, The largest religious building in the city. Just like the Messiah, it has been resurrected! Dynamited by Stalin in 1931, it was identically rebuilt after the fall of communism
Go window shopping at GUM, the upmarket shopping centre on Red Square. Under its impressive Belle Epoque glass roof are 200 luxury shops and, on the third floor, a canteen (Stolovaya 57) offering the best value for money on the Moscow restaurant scene.
Journey to the centre of the earth… or almost, with the most beautiful metro in the world. Make sure you take the escalator at Park Pobedy, which is the world's longest at 126 metres long!
Bring home a souvenir! Like caviar? Head to Eliseevsky to shop in Moscow's luxury food hall. Mouthwatering! Want to buy Russian dolls or a Red Army hat? Leave the city centre and head for Izmailovo, with its second Kremlin that is home to a fantastic flea market.
Meet the family, or rather the city's "Seven Sisters": Stalinist-style skyscrapers at various points around the centre of Moscow. They are as spectacular as they are gigantic. And that's saying something!
Break open your piggy bank to see Moscow spread out beneath you while you enjoy a meal at Sixty, the panoramic restaurant in Federation Tower. The view, like the bill, will make your head spin!
Explore the exhibitions at the Pushkin Museum. With a collection of 640,000 works, this fine arts Museum is a worthy rival for the Hermitage Museum in Saint Petersburg. Admire Italian Renaissance, Dutch Golden Age and French Impressionist works.
Go to the factory! The former Krasny Oktyabr (Red October) confectionery factory is now a hub for Moscow's new wave of artistic talent: artists, designers, photographers, art dealers…
Frequently asked questions